Wish to have an unforgettable day on the Adriatic sea?
Book one day cruise on a speed boat with an exclusive itinerary! Our professional captain and crew member will be more than happy to host you on board of Jeanneau Cap Camarat 7.5.
Price list
PRICE : 450 €
PRICE INCLUDES : speedboat ride,  English speaking crew, safety gear, snorkeling gear, soft drinks on board,  insurance, all taxes and VAT.
EXCLUSIONS: fuel
CHECK IN: 09:00  ; CHECK OUT: 18:00
Check out our tour suggestions below:
Blue Cave and Vis island
The magnificent and famous Blue Cave is a water-logged sea cave on the east side of the island of Biševo, in central Dalmatian archipelago of Croatian Adriatic. It is one of the best known natural beauty spots on the Adriatic and a popular show cave due to the the glowing blue light that appears at certain times of day.
The island of Vis is a pearl among Croatian Adriatic islands, left untouched by the development of tourism for so many years – due to its strategic location on the open sea, it served as a military zone for many years. The island began opening slowly to the outside world, offering it's unique traditions, history, cultural heritage and natural beauties and it is slowly becoming one of the most popular tourist destinations in Croatia.
More about this tour please check on the following link: Blue Cave and Hvar island private tour
Hvar town and Pakleni islands
The town of Hvar is the center of the island's tourism, one of the favorite destinations in Croatia and one of the most prominent and visited tourist centers on the whole Adriatic coast. The main attractions are: pleasant climate, a lot of sunshine, natural beauties, various accommodation facilities, gastronomic offer, sports and recreational opportunities, active nightlife…. Restaurants and taverns offer excellent fish specialties, with exquisite local wines.
Hvar is the town with rich cultural and historical heritage among which stands the Cathedral of St. Stephan, the Franciscan monastery, Hvar town loggia, the Hektorovic Palace, the arsenal and the theater. The town also has many galleries, museums and exhibitions.
Pakleni Islands are the prettiest part of Hvar's, if not the of whole Croatian riviera. A playful chain of woody isles, dipped in a clear, azure sea, a few resorts and swimming areas, and a number of little, hidden away beaches, stone terraces facing sun, and beautiful deserted lagoons make, as someone said, "An Arcadia in grasp of the palm."
More about this tour please check on the following link: Hvar and Pakleni islands private boat tour
Brač island - Zlatni rat beach
Zlatni Rat Beach is considered to be one of the world's most famous vacation spots and attracts many tourists dreaming of a lovely destination to spend their day sunbathing, relaxing or exploring the beautiful wonders of Croatia's history, culture, wine and beach activities.
Zlatni Rat penetrates the sea almost vertically and changes its shape, location and length depending on the influence of the wind and sea currents. Join us and spend a day on the beach and taste local dishes in restaurants situated in the shade of a pine forest, in natural surroundings.
Šolta island and Blue Lagoon
Šolta is a lovely, wooded island (59 sq km) and a popular getaway for Split inhabitants escaping the sultry summer heat. Considered to be the calmest among the islands in middle Adriatic, it is a perfect destination to spend a day relaxing and admiring natural beauties.
Krknjasi bay on the east coast of the island Veli Drvenik is known as the Blue Lagoon for its incredible hue of crystal clear water which create an unique tropical paradise.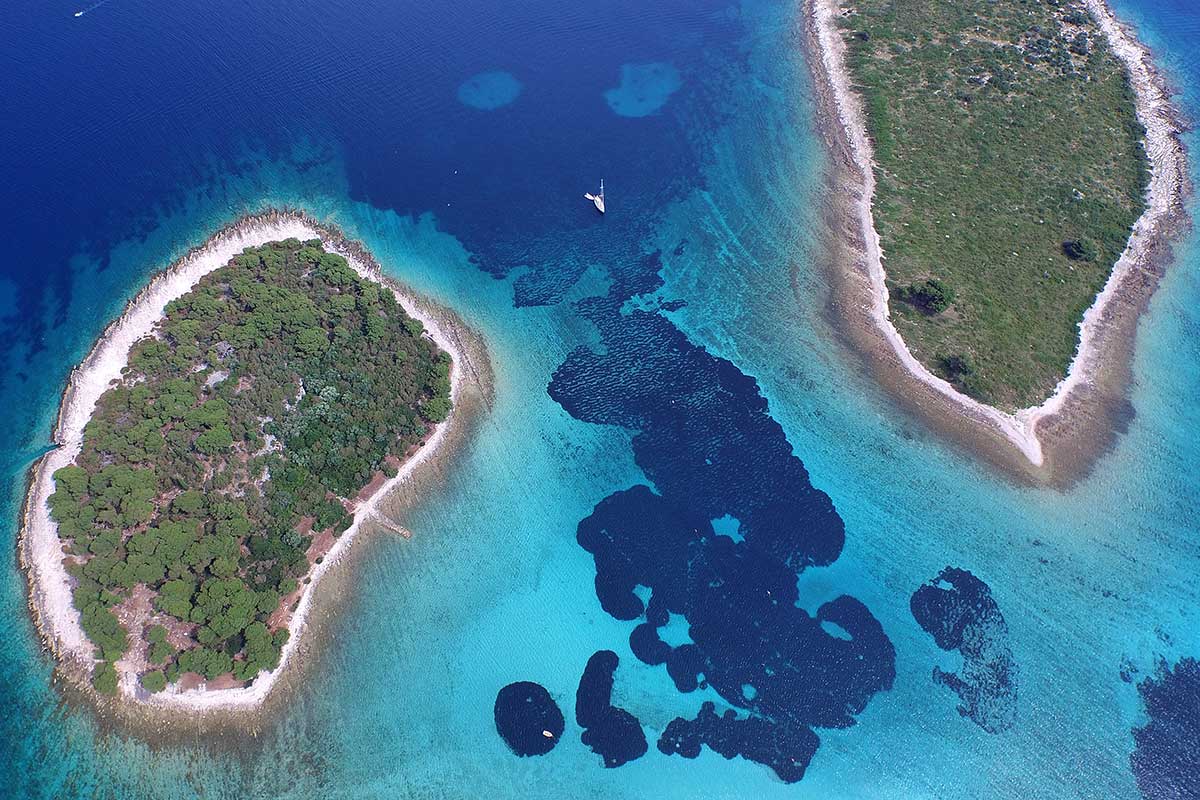 This natural gem is protected with two islands from the outside, large (Veliki) and small (Small) Krknjas. The unusual sandy sea bottom and the immaculate shallow crystal clear water create an unique tropical paradise in the middle of Dalmatia.
More about this tour please find on the following link: Blue lagoon and Trogir private boat tour
Middle Adriatic islands and potential destinations
Private boat rental benefits
If you are interested in discovering some of the most attractive destinations of Middle Adriatic, full day on a private boat might be just what you are looking for. Private boat rental offers a range of luxurious options to discover islands at your pace, and is designed to meet your personal requirements. Professional skipper will show you all the sights on route, and we will adjust departure and arrival time to fit to your holiday schedule.